Up at the El Capitan Theater
Posted:
Wed Apr 22, 2009 2:10 am
Each year, the acclaimed
El Capitan Theater
, located in the heart of Hollywood, California, proudly presents to its vast audience a production by Pixar Animation Studios. Such beloved features as
Monsters, Inc.
,
The Incredibles
, and
WALL-E
have all shared the spotlight at this historic cinema. Now, the
El Capitan Theater
brings you
Up
, Pixar Animation Studios' latest film, which will hit theaters across the U.S. on May 29th.
Recently, my family and I received an advertisement slip promoting
Up
. They send these out every year, so it's my pleasure to share the latest one with you:
Front Cover
: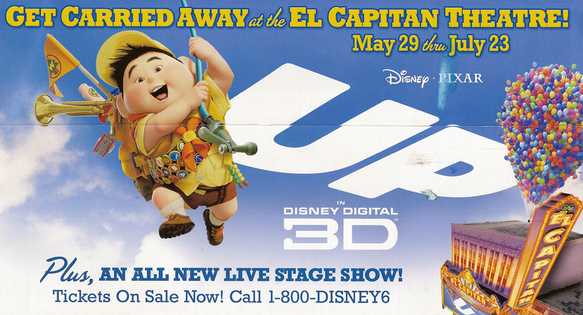 Back Cover
:
Inside Cover
:
------------
Note
: My family's address was hidden so as to keep our information undisclosed.
Personal Note
: My apologies for the poor cropping of the last image.
------------
Disney/Pixar's
Up
will premiere at the
El Capitan Theater
from
May 29th
-
July 23rd
. For further information and tickets, feel free to access the cinema's official website via this link:
The El Capitan Theater
You can also contact them via phone at
1-800-DISNEY6
.
General Admission
is as follows:
Adult
- $16.00
Child
(3-11) - $14.00
Senior
(60+) - $14.00
Group Rate
(20 or more) - $12.00
VIP Admission
: $26.00 (includes a reserved seat in either the Orchestra or Balcony levels), a 64oz. bucket of popcorn, a 20oz. drink of your choice, a no waiting in line)
Please note that showtimes are subject to change, and that if you order tickets they will be mailed to you and are subject to fees.
Keep in mind that this is Disney/Hollywood, so the insane ticket prices are standard for California. I will tell you right now, however, that it's worth it to shell out a few extra bucks from your wallet. You get what you pay for.
Personally, I never cared for the stage show -- in fact, I hate it -- ... but the movie experience itself is magnificent. There's an organ player (whom is absolutely brilliant) at the beginning of the show, music from the film being presented plays outside of the complex, there's a Disney Store right smack dab next to the cinema... and it's sure to be littered with
Up
merchandise.
I would recommend buying tickets for the seats at the back of the top balcony, particularly seeing as they're never taken, so you're guaranteed a seat. They're just as good as the ones in the front. I take it that most theater attendees prefer the orchestra seats (on the lower level), but the balcony is the place with the stadium seating and the awesome view....
My father, sister, and I go almost every year, since we're literally about forty-five minutes to an hour away from Hollywood, so I'l most definitely be attending this event, especially since I missed out on
WALL-E
last year, most unfortunately.
The Disney Store right next to the
El Capitan Theater
will, more than likely, be hosting a
collage
of
Up
-related merchandise during the time that the film itself will be playing at the cinema in question, so if
anyone
wants any specific piece of merchandise that's
under ten dollars
, just give me a hollar on this thread or via a private message and I'll buy it for you!!! I would greatly appreciate it if you paid me back and/or if you chose something that's inexpensive, but you don't have to.
To anyone who will be attending this event: Enjoy!!
-- Mitch
-----------------------------
Additional Note
:
All right, I'm going to tell you right now that there are ways around the ridiculously
insane
VIP ticket prices. I don't care what anyone says; it's complete bull. Only get the VIP tickets if you want to spend a freakin' boatload of money to sit in the middle of the Orchestra or Balcony levels. Not that we've ever actually paid for the VIP tickets, but you can get just as good a seat without reserving it. This is what my dad, sister, and I do every year:
1)
Go here:
http://disney.go.com/disneypictures/el_ ... ckets.html
2)
Select the date(s) and the hour(s) in which you wish to see the film of your choosing. (Make sure that the date you select is for the film you wish to see.)
3)
Select the seats you wish to "reserve". (We always reserve the General Admission seats on the
right hand side of the Balcony
.) By rolling your mouse over the varying sections, you'll notice that a box will pop up that displays the name of the section and how many seats are available. I've looked through May, June, and July... and it says that
every single seat
for the Front Balcony Rows on the left and right
and
the VIP Orchestra Rows on the left and right are all sold out. I think that this is a fault in their records, though. There's no way that all of those seats could have been taken already. I don't think....
4)
Select how many will be in attendance.
5)
Complete your order and print out the dang tickets.
Voila'! It's as simple as that... and as expensive, but it's worth it! Either way, don't buy the VIP tickets unless you really want to. You're just wasting your money, plus, I think that the asking price for the VIP tickets are $26.00
per freakin' person
.
By the way, on the "transaction" page (before you "Check Out" your order), it says that the tickets you select will only be held for twenty minutes. I take it that they're only held for twenty minutes until you complete your order. That said, you're practically guaranteed a seat... as long as you choose the seats at the back. (And, again, the seats at the back are just as good as those in the front. You can see the theater screen fine.)