I've seen a lot of fun graphics around here, and I figured I'd make some of my own. Ha. Mostly my graphics would be A Bug's Life circus bug oriented, but hey. It'll be a bit of a splash of some "new" stuff.
BANNERS
Here's my very first one on the board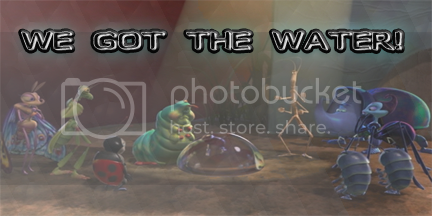 It was a temporary until the one I have now. Which I'll show so folks can see it before I change it again.


Yaaay, this one has concept art
! One from when Gypsy appeared to have been a ("cute little") bumblebee.
And now. Onto the captioned silliness that I will allow use of

I guess I was mostly like Francis and Rosie XD
Let's see the other guys reaction to the ending


Oh, Tuck and Roll XD
I had the hardest time trying to caption this one.


It's a bad joke, I know, I know. Other ideas I had were "He just realized that Gypsy was still in the Chinese Cabinet of Metamorphosis" and "Manny just realized what Flik meant by "your assistant is in another box" (which is the same meaning as the last one).
And one of my favorite T&R moments


I'm surprised there weren't others like this XD
And now, some icons
Here's mine so people can see it when it changes


It looks so…rainy…or something.
And I found this just hilarious


A face that can only be seen on the Widescreen version X3
Stay tuned for more