First of all, thedriveintheatre and I (mostly myself!) would like to apologize profusely for the length of time it has taken us to pull the awards together! Normally, things run fairly smooth and deadlines are met as far as the awards go, but my life in particular threw quite a few very hard-hitting curveballs at me all at once, and I was not able to be as attentive to the awards as I would have liked. My most sincere apologies are extended to you guys for the very long and unnecessary wait.
With that said, it's time to announce our finalists and start the voting!
Typically, we select the top five nominees in each category, but for some categories we had ties, so there may be more than five nominees listed. That's okay… because in the voting process, you can only choose one out of the five or more nominees presented.
Before I list our nominees, here are the rules for voting:
Voting is open from now until Wednesday, March 6. Usually we have voting open an entire week, but because things are running behind almost two weeks out as it is, we want to cut the time down to get our winners announced as soon as possible!

Even if you didn't nominate in the first round of the awards, you are still able (and encouraged) to vote in the finals.

Copy and paste the list below to a 'new message' in your private messaging system and leave only ONE member/work you are voting for in the list. You do not have to answer every category, but please try to, so that there is less of a chance of having tied awards. There were a lot of ties for the nominations, so if you guys try to vote for every category, the less chance of a tie.

Send your votes to either myself of thedriveintheatre.

If you wish to vote you must have signed up to the forums on or before December 31, 2012.

Once again, keep your votes to yourself, and DO NOT tell others to vote for you. If we find out you are trying to cheat, you will be kicked out of the running for any awards.

You may not vote for yourself or your own work.

If you have any questions, please send me or thedriveintheatre a message.

Have fun voting! The winners will be announced a few days after the voting has closed!
And without further ado… our finalists!
-Best Member-
Ellie-jessie-eve
Spirit of Adventure
Thedriveintheatre
Leirin
Little_chef_eva09
The Star Swordsman
-Best New Member of 2012-
ObsessedWithPixar
LQstudiesPixar
PixarTeo
Bonanna137
Flame of Awesomeness
Evspixarfan201
-Best PixarPlanet Staff Member-
Little_chef_eva09
Ellie-jessie-eve
Thedriveintheatre
Spirit of Adventure
The Star Swordsman
Violet Parr
Phileas
-Friendliest Member-
Ellie-jessie-eve
Leirin
IncredigirlVirginia
PixarTeo
ObsessedWithPixar
Spirit of Adventure
Little_chef_eva09
K9Girl
-Funniest Member-
Thedriveintheatre
K9Girl
Pixarfan91
ObsessedWithPixar
IncredigirlVirginia
Spirit of Adventure
-Most Informative Member-
Spirit of Adventure
Thedriveintheatre
JustSteve
Little_chef_eva09
Ellie-jessie-eve
Phileas
Bryko614
-Best Critiquer-
Thedriveintheatre
Spirit of Adventure
Ballboi
Little_chef_eva09
JustSoWall-eCrazy
-Most Likely to Get a Job at Pixar-
Little_chef_eva09
Spirit of Adventure
Mitch
Thedriveintheatre
Hannahmation
Violet Parr
Lennonluvr9
-Member You'd Most Like to Meet-
Ellie-jessie-eve
Thedriveintheatre
K9Girl
Mitch
Little_chef_eva09
Leirin
-Craziest Pixar Fan-
ObsessedWithPixar
IncredigirlVirginia
Pixarfan91
K9Girl
Bonanna137
-Best Signature-

by little_chef_eva09

by ObsessedWithPixar by K9Girl
Dan Perillo's Pixar signature by Lerin (signature image not available)

by JustSoWall-eCrazy

by Violet Parr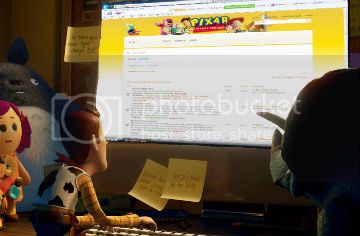 by Pixarfan91
-Best Avatar-

by Grifoshka

by K9Girl

by lazerenvy327

by thedriveintheatre
(per her request, ellie-jessie-eve's avatar has been removed from the list of nominees for Best Avatar.)
-Best Video-
Pixar: Where We Belong by cityofsnow
Speed of Love: a WALL-E MV by little_chef_eva09
Lightning McQueen: Go the Distance by SallyMcQueen
Live Action Toy Story by Noble_Wolf
NDP 2012 Love At First Light Literal Music Video by thedriveintheatre
-Best Fan Fiction-
Ragoût de Famille Folle by little_chef_eva09
Triangolo D'Amore by MissCarrera
Something Only Francesco Sees by Netbug009
After The Storm by SallyMcQueen
Fighting With Myself by Violet Parr
Define: Pizza by JustSoWall-eCrazy
-Best Non-Pixar Fan Fiction-
Poems and Stories by queen_of_painting
(NOTE: Since this was the only nominee in its category, it has unanimously been decided as the winner for this category in the nominating stage, and will not proceed to the voting stage.)
-Best Pixar Artwork-
by
little_chef_eva09 by K9Girl
by
JustSoWall-eCrazy

by ObsessedWithPixar
by
thedriveintheatre
by
JustSoWall-eCrazy
-Best Non-Pixar Artwork-
by
JustSoWall-eCrazy
by
thedriveintheatre
by
S 330

by ObsessedWithPixar
by
Pixarfan91
-Best Video Maker-
Little_chef_eva09
Noble_wolf
CGI Clownfish
Pixarfan91
SallyMcQueen
Cityofsnow
-Best Graphic and Icon Artist-
Spirit of Adventure
Little_chef_eva09
JustSoWall-eCrazy
ObsessedWithPixar
K9Girl
Thedriveintheatre
-Best Fan Fiction Writer-
Little_chef_eva09
MissCarrera
Netbug009
Violet Parr
JustSoWall-eCrazy
-Best Fan Artist-
Little_chef_eva09
JustSoWall-eCrazy
Violet Parr
ObsessedWithPixar
Lennonluvr9
-Best Original Artist-
Badger
JustSoWall-eCrazy
Queen_of_painting
ObsessedWithPixar
Leirin
Violet Parr
Lennonluvr9
Mitch
-Best Fandom Medium-
Fan Art
Graphics
Fan Fiction
Videos
-Best Game-
True or False
Forum Alphabet Game
Good Idea / Bad Idea
One-Sentence Story Game
If You Were
-Best Thread-
What's On Your Mind?
Wreck-It Ralph
Who Has the Best Signature?
Favorite Films of 2012
My Little Pony: Friendship is Magic
-Best Thread Creator-
Annarborjack
PixarTeo
LQstudiesPixar
Wheezy's Best Bud
JustSteve
-Best Picture-

The Avengers
Brave
Lincoln
Wreck-It Ralph
Les Miserables
-Best Animated Film-
Wreck-It Ralph
Brave
Madagascar 3: Europe's Most Wanted
Rise of the Guardians
Frankenweenie
Pirates! Band of Misfits
On to voting!
Congratulations to all of our wonderful nominees!
little chef