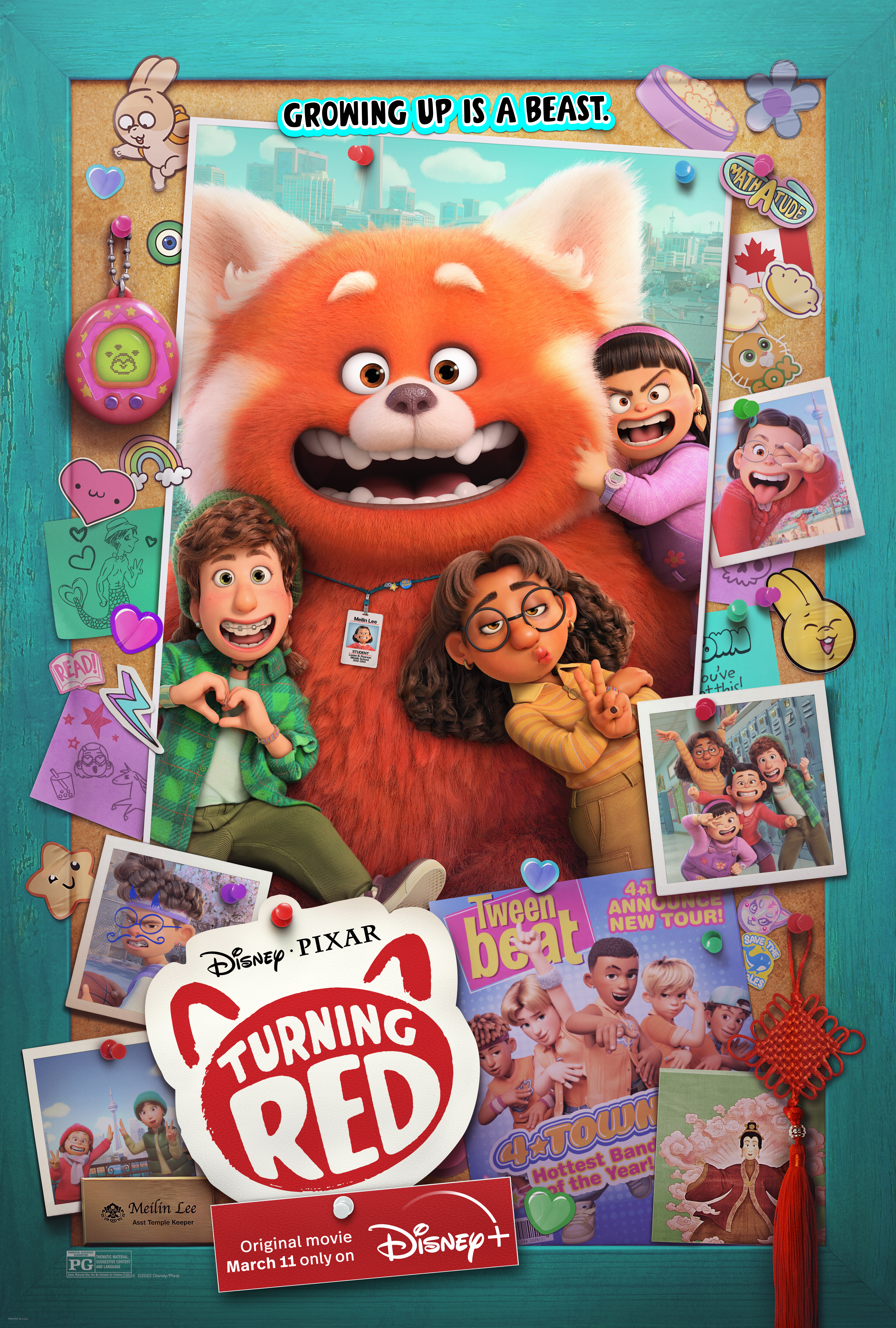 Domee Shi is probably feeling overwhelmed right now. Turning Red is only the second Pixar film with her in the director's chair, not a short attached to a feature (remember those?) but a full length one. She's also the first woman at the studio to accomplish this feat, with her vision uncompromised by "creative differences." In addition to audience and critic reactions are the expectations for Turning Red to outdo every Pixar movie that's come before. But she should also feel proud for crafting something totally new.
I'm not sure what a typical Pixar movie is. I know they're heartfelt and hilarious but no two movies are indistinguishable from one another. Turning Red has obvious similarities to last year's Luca, as well as Onward (2020) and Brave (2012). But it further sets itself apart from those and all the rest. The major unwritten rule concerning Pixar movies is to never defy audience expectations. Turning Red gleefully does just that. It's a weird, risky, ambitious, messy movie that delights in being weird and messy. It feels so much like a movie Domee Shi made with and for her friends. 
Read on for a spoiler free review!
The year is 2002, and 13 year old Toronto native Meilin Lee (Rosalie Chang) is out to conquer the world and maybe save it. Mei is a straight A student who loves math, plays the flute, and is not just comfortable in her skin, but defiant in it. "I accept all labels," she confidently asserts in the film's opening — even the negative ones. Other people's opinions simply don't affect her.
But that's not all: Mei is also a dutiful daughter. Every day after school is spent helping her parents clean and manage the temple they own, which honors their Chinese ancestors. The temple also educates visitors about the red panda, which the Lee family has a strong connection to.
Naturally, Mei is the pride and joy of her mother Ming (Sandra Oh). She excels in her studies and prioritizes family obligations over hanging out with her friends, a trio of girls as spunky and dorky as she is. Mei is that most elusive of things: the perfect daughter. And that is a very neat, charming story in the movie's first few minutes. But while Turning Red is charming, it isn't neat; growing up rarely is.
Mei's transformation into a giant red panda is the perfect metaphor for growing up: we all feel gross and beastly during puberty. The panda also symbolizes chaos and big emotions, two things Ming cannot tolerate. Mei is supposed to remain her perfect, uncomplicated daughter forever. The beauty of Turning Red is that Mei has to learn how to integrate this messiness into her life; how to become the woman she's destined to be, red panda and all.
Mother-daughter conflict aside, Turning Red bounces along with plenty of joyous energy. There's also a wackiness to the film that complements the art style. I adore the bright colors, sparkly anime eyes, and exaggerated facial expressions, so different from the look of past Pixar films. Shi's vision of an "Asian tween fever dream" was boldly realized. This movie both looks and feels like a fiercely loving homage to teen girls.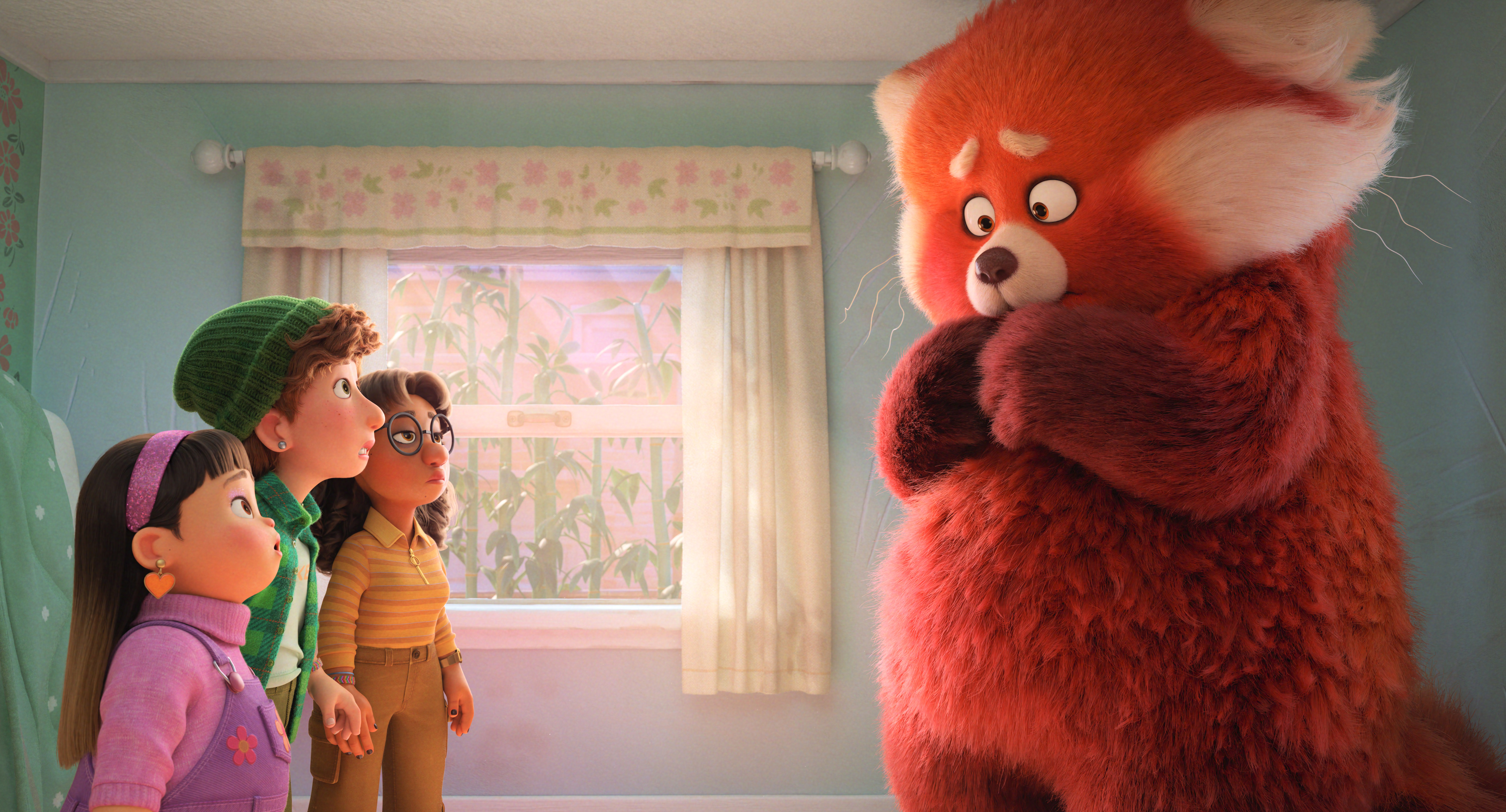 Mei is lovable immediately, as are her BFFs Miriam, Abby, and Priya. They love and support her unconditionally, whether as a human or a red panda. Their friendship is definitely one of my favorite things about Turning Red (already a long list). This is a friend group you need even after middle school!
Also on that list of favorite things is the music of 4*Town! As someone who grew up loving boy bands (and still does), I could relate a lot to Mei and her friends' obsession with their favorite boy group. 4*Town's hit "Nobody Like U" has been stuck in my head for the past two weeks (I'm not complaining either). Sounds like it could pick up a nomination for Best Original Song at the Oscars next year…
The existence of 4*Town also just makes the world of Turning Red feel that much more genuine. And the boys end up playing an unexpectedly crucial role. But even if they didn't, the movie rejects the idea that boy bands, and the girls who love them, are frivolous.
A part of me feels that this movie will be just as polarizing as Shi's directorial debut, "Bao." But if I'm proven right (and I hope not, because I want everyone to love this movie!), it'll just underscore how unique Turning Red is. It holds personal significance for its director and it has a cultural specificity that I really appreciate. But it's sure to resonate with anyone.
Turning Red premieres March 11th on Disney+!
Tags:
turning red
Last modified: September 10, 2023