We're dusting the cobwebs off the Woody's Round-up feature! Simoa and Joanna are here to do a brief run-down of all things Coco!
As the release date edges closer, there's plenty of cool and exciting things to look forward to, and one of these is merchandise.
Funko Pops: These are the perfect additions to anyone's collection, featuring designs that are both adorable and lovingly crafted. There are three different versions of the characters:
The Mystery Mini series is extremely cute, but super detailed as well.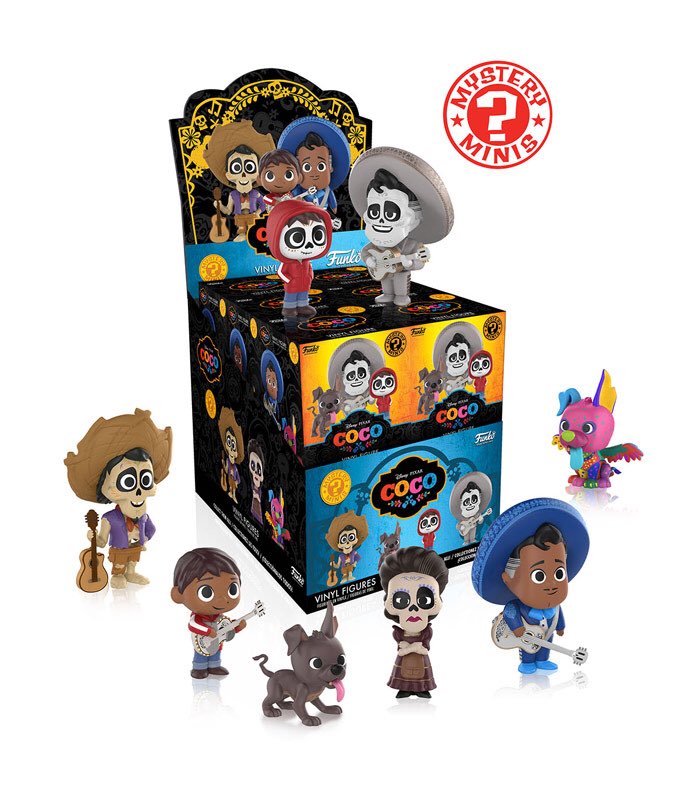 The Dorbz series includes a glow-in-the dark Miguel, though it's limited and available only at Toys "R" Us.
And feast your eyes on the Pop! Vinyl series.
Don't miss out – these Funko pops are available for purchase at Toys "R" Us and Hot Topic.
Coco wrap party: The film is officially complete! A wrap party was held on the 14th – crew members celebrated their hard work finally paying off, and people were treated to a screening. Talented animator and art director Dice Tsutsumi, who has previously worked on a number of Pixar films such as Toy Story 3 and Monsters University, posted a tweet which shows us the theatre where the screening took place.
Coco wrap party is about to begin. Grateful to be invited to the last film I works on at #Pixar. pic.twitter.com/IwXr4WndlZ

— Dice Tsutsumi (@tonkohouse) October 15, 2017
It's exciting to see all the positive comments and 'mini-reviews' that people have been posting on Twitter after the wrap party. It appears certain that Coco is going to be full of heart, bursting with love, emotion, and character at every seam. Seeing the crew exhibit such a huge amount of pride in their work is very moving, and is sure to make Coco feel all the more special.
Hot logs we got a good one with Coco. If 2017 has left you as battered and bruised as me, it's a bowl of exactly what we all need right now.

— Max Bickley (@MaxBickley) October 15, 2017
Last thing I'll say about Pixar's magnificent Coco is that it was tough to see the last 1/2 hour through my tears (of joy!)

— Adam Savage (@donttrythis) October 16, 2017
Just celebrated #PixarCoco last night and even after months working on it I couldn't hold my tears. Such an important film. pic.twitter.com/ZnQAmf4JDn

— Charles (@charleslarrieu) October 15, 2017
Saw @pixarcoco . It's one of our finest, most emotional films, made by 3 heroes of mine. It soars, at a time when we need music. Incredible.

— J Robertson (@A_robots_sun) October 15, 2017
Celebrating Hispanic Heritage Month: Pixar have also been celebrating Hispanic Heritage Month on Instagram. Employees of Hispanic descent have been given the spotlight, with their stories posted alongside a portrait of them. Andrea Aleman, Events Administrator for the Café at Pixar Studios, summed it up perfectly in her post:
"Hispanic Heritage Month is a way to be proud of our roots, show where we came from, and be a part of this melting pot of different cultures, different colors, different traditions, different music, and the hard work that we grew up learning from our parents. There's an enormous sense of pride that I feel for this month of reflection and celebration."
You can see all of Pixar's other Hispanic Heritage Month posts on their Instagram page.
"Remember Me" Jazz Performance: Ernesto de La Cruz's signature song was featured on ABC's Dancing With the Stars Monday night. The song received a proper showcase, with the colorful costumes and dancing adding some visual flair. Watch the clip below.
Hollywood Film Awards: Coco has also won its first award! The film will be honored on November 5th, although its yet to be released. We're sure it'll gain more accolades once the world sees it! Read more about the HFA here.