Our first official look at Bo Peep in Toy Story 4 is here!
Bo's Back. #ToyStory4 pic.twitter.com/6KR81i17i7

— Disney•Pixar (@DisneyPixar) January 28, 2019
Her iconic pink and white polka dot dress with the matching bonnet has indeed been swapped out for the blue pantalettes we first saw from a blog post speculating about her appearance. This little 11 second teaser shows us so much. For one thing, Bo isn't so fragile and stationary anymore. She actually moves. One of the reasons she had such a small role in Toy Story 2 was because her porcelain figurine couldn't have gallavanted around the Tri-County area with the rest of Andy's gang. But filmmakers have solved that problem this time around. Can't tell if she's still made of porcelain, but she is wearing a pair of strappy high heels! Maybe this means that little Bo Peep has lost her sheep permanently? Now she wields her long staff in an entirely different way, and swings from it and into the screen.
Now that we have confirmation of Bo's role in the film, we can only guess about what other surprises are in store! Bo Peep may have a new look, but I hope she's still the sweet and lovely character she always was, even if she's a lot tougher and active.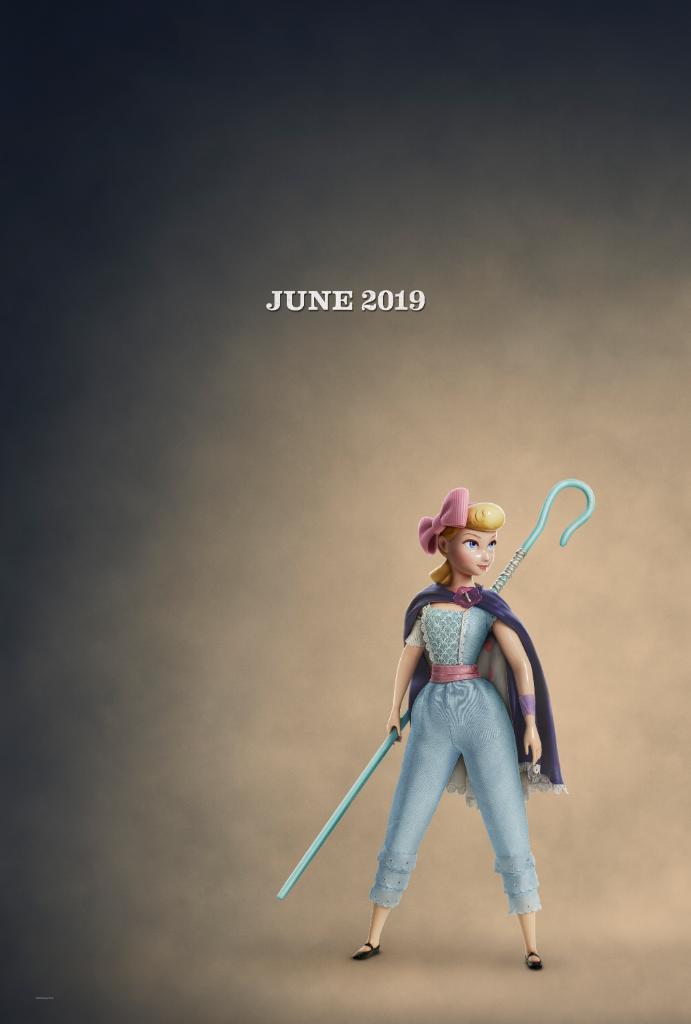 In this character poster, she's wearing flat shoes along with a cape! I didn't think I'd love her redesign so much! Do you guys love it too? How excited are you for June 19th?!
Update: EW has an exclusive description of Bo Peep from director Josh Cooley.
"Bo's taken control of her own destiny. While Woody was watching Andy grow up, Bo gathered dust until she took it upon herself to head out into the world. And when Woody shows up, they can't believe that they've found each other again."
Apparently, Bo and Woody have different ideas about what it means to be a toy. That seems to mirror the brief conflict between Woody and Jessie in the second movie. Can't be sure just yet what Bo thinks it means to be a toy, but we are eagerly waiting to find out.